The following was written by Kit Gorohoff, the oldest son of Michael Innokentevich Gorohoff
My father, Michael Innokentevich Gorohoff, was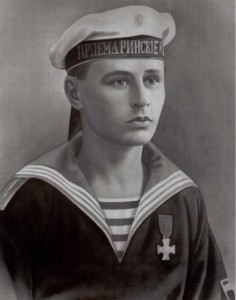 born May 1, 1901, in Yakutsk, Siberia, not far from the cold pole of the world. His mother, Katarina Ivanovna (Val) was a doctor, while not much was ever said about his father, at least to us. His father's name was obviously Innokenty, but it appeared that he had a drinking problem, and was considered a black sheep. My father had two older brothers, Boris and Gleb, and two older sisters, Nadezhda and Musa (Maria). The patriarch of the family was his maternal grandfather, Dedushka Ivan Val. He was of German origin, and served as the local magistrate, mayor and trader, probably in furs. Mike had a normal, though cold childhood, as his stories testify: school being called off when the temperature got below 30, hanging pelmeni in a sack from the corner of the roof in the winter and ice fishing on the Lena River. At some point in his childhood he was sent to a local seminary for his education. In addition to the normal reading, writing and arithmetic, he picked up some Latin and Greek, as well as church Slavonic, as part of his religious studies. The Russian civil war broke out when he was 16. It's not clear when the effects of the Civil War reached Yakutsk, but at some point in his late teens he ended up at a naval academy in Vladivostok, where he was to be trained to be a naval officer in the White navy. As the civil war reached the Russian Far East, he became involved in the conflict, fighting with the White forces against the Red armies. He had learned to speak some Yakut, during his childhood in Yakutsk, from the Yakut inhabitants: this language skill was utilized in guerilla warfare against the Reds. Finally, he was captured by the Reds, beaten up and thrown in prison in Vladivostok, with the promise that his captors would be back the next day to shoot him. During the night, Japanese forces took over Vladivostok, and released him.
Shortly thereafter, around 1922, he and some of his fellow midshipmen, and other Whites, hi-jacked a minesweeper, and took off for any port that would take them in. During the course of this voyage, which took several months, he was accidentally cast adrift in the Sea of Japan while on a barge which was being towed, only to be rescued again. The voyage took them to Korea, Japan, Vietnam and finally the Philippines, where they were allowed to land. They found work in the pineapple fields, but were unable to make a go of it, and left. They landed in Shanghai, where they were finally allowed to stay.
Shanghai was an international city in those days, with the Western powers essentially running the town. There was a sizeable White Russian colony in Shanghai, all escapees from the civil war in Russia. My Dad worked at whatever jobs he could find, at one time owning a grocery store in Shanghai. This business failed, apparently as a result of extending too much credit to his fellow Russian imigrants He had applied for visas to Australia, Canada, and the United States, while in Shanghai, and in 1925 was notified by the Australian consulate that he could emigrate to Australia. This was conditioned on paying his own way, and having 40 pounds cash to show the authorities. Apparently he was unable, or maybe unwilling to go. Finally in 1928 he sailed on the Canadian steamship Empress of Asia to Vancouver B.C., arriving September 29, 1928.
Meanwhile, my mother, Galina Alexandrovna Ivanovna, was born in Gomel, Russia, March 28, 1904. Gomel was, and is, a town near the boundary between the Ukraine and White Russia, or Belarus, as it is currently known, a little north of Kiev. Her father, Alexander Julianovich Ivanov, was a school teacher there, having graduated from the University of Moscow. His wife was Maria Evgenevna (Goundriser) I never knew her, since she died in the early 30's in Vancouver. . By all accounts, biased, of course, she was a gentle, loving mother. My mother was the oldest of three children, with a younger brother Andrew, and a sister, who died at the age of two of diphtheria. When my mother was three or so, the family moved to Harbin, Manchuria. My grandfather had accepted a teaching job there, at the Komerchiskaya Uchilishcha, (school). The Russian government had obtained a concession from the Chinese government, allowing the Trans-Siberian railroad to run a line through Manchuria to Vladivostok, greatly reducing the travel time to the Far East. Harbin was a major junction, as it is on the Sungari River, which was a major water transportation link in Manchuria. To educate the children of the railroad staff stationed in Harbin, schools were established, along with the other railroad infrastructure. By all accounts life there was pleasant, in spite of the weather, since they had a large house, Chinese servants, and association with the prestigious school, which was apparently a K-12. My grandfather taught Russian language at the school, which my mother and her brother attended. The initial effects of the Revolution on life in Harbin are not clear, but since it was at the other end of the country, and a civil war intervened, it took some years before the family decided to leave. They arrived in Vancouver, Canada, via the Empress of Russia, April 20, 1927. The were able to leave with some assets, since they bought farm property in Eastern British Columbia, near the little town of Windermere, at the head waters of the Columbia River. It appears that they knew very little about farming, and the property had no water supply in the summer, in spite of the proximity to the Columbia. They lost the property, and moved back to Vancouver. My mother had received a scholarship to Pomona College, in Claremont, California, through a close Harbin friend, Mary Vesey. In spite of my mother's concerns about the adequacy of her command of the English language, she accepted the scholarship, and spent 1928 going to college there. She greatly enjoyed her stay there, judging by her later reminiscences, and continued to correspond with school friends all her life. She was unable to continue, even with the scholarship, due to family financial problems, and came back to Vancouver. She met my father at a Russian community event, I believe, during the next year or so. My father had been required to learn to dance while a midshipman, and was, in his day, a pretty dapper fellow.
**He had bought a chicken farm, out on Lulu Island, which is now the site of Vancouver International Airport. He had trouble with predators killing his stock, the chickens cannibalizing one another, and I suppose the general economic climate in the early '30's. In any event, he sold the ranch for what he could get for it. He did come away with a life long aversion to chicken. He found day work at the local shingle mills, since cedar was plentiful in those days. Somehow, he managed to make a living. Around this time two events important to the Gorohoff saga took place: he was informed by mail from the US Consulate in Shanghai that his application for a US visa had come through, and he and my mother were married June 13, 1930, in the local Russian Orthodox church. They decided to move to Seattle, and departed Vancouver by Greyhound bus. My mother's family stayed behind in Vancouver. My grandfather had somehow learned to be an upholsterer, while my uncle Andy became a furniture salesman. Since jobs were scarce in Seattle, as in Vancouver, during the depths of the Depression, my mother went back and forth from Vancouver by bus, while my dad stayed in Seattle. He worked at day jobs, as he could find them, ranging from hauling and salting hides at the local packing house, hauling cement during the construction of the Immigration building, and working at the Ballard shingle mills. My parents stayed with a Russian family on the West side of Capitol Hill, subleasing one room. My Dad would walk to Ballard every morning looking for work in the shingle mills. Somehow, their prospects improved enough that my mother no longer had to commute from Vancouver, and I was born October 17, 1931, at what was then Columbus Hospital, on the corner of Boren and Madison. (It became Cabrini Hospital, and is now part of the Swedish Hospital conglomerate.) By then, they had their own apartment, still on Capitol Hill, near Volunteer Park. He had found a steady job, as a cook in the help's cafeteria, in the Olympic Hotel in downtown Seattle (still there, though as the Four Seasons Olympic). The Olympic, in those days, employed a large contingent of Russian emigres, who had a wide range of backgrounds; e.g., the freight elevator operator had been a ballet teacher, my dad had been a sailor, and so on. I've no idea how and where my Dad had learned to cook. Somehow, he made it work. We were able to rent a home, paying $12 per month rent. The house was at 1122 26th Avenue, in what is now the Central Area. The house was owned by a Seattle fireman, Jack Montan, and was located behind his house. It was small, maybe 900 square feet: a living room, dining room, kitchen, full bath, an attic bedroom, and a basement. Oh yes, my brother had come along, January 3, 1934. Initially, I was hostile to this interloper, I've been told, even trying to push his buggy down the stairs, ala Richard Widmark, but got used to him eventually.
One of my father's best friends, from the Navy days in Vladivostok, was Andrei Nickolaevich Abramenkoff. Their paths had separated after Vladivostok, and Andy somehow got to the United States on his own. He was able to go to college at North Dakota School of Mines, but changed his career path to the Merchant Marine. I remember him as already having received his 3rd Mates certificate, and staying with us when he was in port. His relatives were still in Vladivostok, and he was attempting to get them out. He planned to buy a house for them, but agreed to let us live in it until his sisters and brothers were able to emigrate. In exchange, he would have a place to stay when he was in port. The house, 5552 Woodlawn, was nine years old, just off Greenlake. It had two bedrooms, full bath, living room, and kitchen with eating space, full basement, a garage and fenced backyard, for $4000. The attic had been paneled, and provided a large bedroom for my brother and I, running the width of the house. So in April of 1940, we moved there. It was a working class neighborhood, with a lot of kids our age. We changed schools, enrolling in F.A. Mc Donald grade school, about ten blocks away. I was in the 4th grade, and Ken was in the 1st, I believe.
Around this time my father quit his job at the Olympic, and went to work at Boeing as a carpenter, another skill he seems to have just picked up along the way. With WWII starting up, Boeing was in a hiring mode, and paid better than the Olympic. Andy Abramenkoff realized that the war made it unlikely that he would get his family out of Russia in the near term, and agreed to sell the house to my dad. (I would catch the Number 6 Stoneway trolley downtown once a month and make the mortgage payment at the Washington Mutual bank, across the street from what is now the Westin Hotel). Andy was still sailing, and had by now received his 1st Officer papers, and with the war heating up, was at sea frequently, for extended periods, though still staying with us when in port. On one of his voyages, on the SS Libby Maine, the ship ran into a hurricane in the Caribbean, and sank. Andy spent 48 hours adrift, until he and the other survivors were rescued. Since the Libby Maine had Seattle for a homeport, it was a big story in the local newspapers, and for us, until he was found. Sometime during the next few years, Andy decided to deed the house over to us, I suppose because we had become his family and since his chances of extracting his relatives from the Soviet Union continued to diminish. He was very good to my brother and I, and even buying us our first regulation football (He also gave me very important advice. Upon meeting my wife, Melanie, shortly after we had been married, he took me aside, and suggested that I had better treat her right, or he would tear my head off. Since he was built like a wrestler, and had been one in college, I have tried to heed this advice to this day.)
My Dad left Boeing about 1943 and went to work at one of the local shipyards, I suppose for more pay, but still as a carpenter. My brother and I continued our happy-go-lucky lives, walking to the grade school. With all the other kids in the neighborhood, we quickly became more and more Americanized. Until I had started grade school, we spoke little or no English, since Russian was the language spoken at home. There was no such thing as bilingual education in those days, but we managed to pick up English rapidly nevertheless. Our main pastime, outside of school, was whatever sport was in season, with the rest of the neighborhood kids. Our home was a couple of blocks from Lower Woodland playfield, which had numerous baseball diamonds, football fields, etc., to which we gravitated, to the dismay of our parents. The military used parts of Woodland Park for PT, drilling, bivouacing. We naturally hung around, during summer vacations, drilling with the troops in spite of their efforts to run us off, and picking up other valuable military knowledge. Ken and I took piano lessons from my mother, until we got too smart to continue, unfortunately. Ken did take drum lessons, and then clarinet lessons, which he continued in high school